PROJECT: WEDDING RESTAURANT MAXIM 1 & 2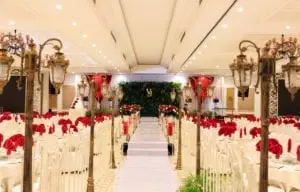 Area: 4000m 2
Location: Vungtau
Duration: 05/08/2015- 15/09/2015
---
Details
Maxim chain of restaurant is the top one of its kind in Vungtay city, located on a 10.000 meter square premise with total area of 4.000 meter square for 3 wedding halls. Each hall possesses its own luxurily distinctive design, decorations and layout.
The key decoration of this project is the mixed texture on walls and ceiling, primarily wooden, highlighted by modern warm and bright light system
This project is a significant evidence of the economic and profitability efficiency that BETHODA's design and construction can bring to our clients.