PROJECT: YMUV OFFICE – TIEN GIANG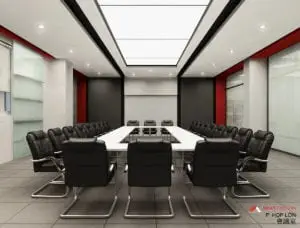 Area: 1600 m2
Location: 1-5 Tan Huong Industrial Park, Chau Thanh District, Tien Giang Province.
Scope of work: Design and construction
Duration: 26 Oct 2015 to 26 Dec 2015.
---
Details
YMUV is the manufacturer of UNDER ARMOUR, the renowned US brand in sport accessories. Similar to other sport brand that we have worked with, this client required a working space which is open, professional and motivational but not too dynamic and colourful.
Our team has come up with the solution to use only red and black as main colour, mixed on the theme of bright white background on the ceiling and floor. The aim was to maintain the sportive spirit of the brand and give a boost to overall productivity while satisfying all the mentioned requirements from client.